#7. On grief + Mary Oliver
"Grief is Chronic"
Dear Reader,
I felt a specific kind of incoherence all through my final year of college. I'm not going to detail it out here, but it went something like this: I had learned how to be containers for other people's thoughts, other people's vulnerabilities. But I was pathetically incapable of letting other people be containers for me, my feelings.  
Last year, I spent a cold mid-November night in entirety worrying about a friend. Protests were raging through the country and as a way to curb them Section 144 was imposed in many states. There was an impromptu plan that flew around via WhatsApp across student groups calling for a gathering at midnight since curfew could kick in only the next morning. I was stuck at home with period cramps, but a couple of my friends decided to go. 
I sent a text to friend A, "stay safe, let me know if you need anything." 
A replied almost instantly, "ya, ya cool." 
I couldn't get through to any of them after that. They must have switched off their phone or just forgotten to check. But until I received a "back home, everything is ok," text at 4 AM, I couldn't sleep.
On that night, I had five flatmates in my house that would have been more than willing to let me vent, talk, scream. There were about 15 other people on my speed-dial that I knew wouldn't turn down a call from me. But I chose to sit alone, push tea down my throat, mindlessly allowing Netflix to play episode after episode of some crap.  
I woke up tired the next day from my two-hour sleep. At breakfast, I pushed around food in my plate, dumping it eventually for a better (more unhealthy) deal at the college canteen. I cribbed the whole day about not sleeping enough, a friend asked if I was okay. "I'm okay now, but last night was bad," I said matter-of-factly. She nodded. I twitched my lip, wondering if I should have vented to her last night. 
The morning after felt sour, like the aftertaste of a bad meal that one shouldn't have eaten in the first place. There were many of those sour days. That same month, on my cousin's death anniversary, for instance — I hung around, lapsing in and out of conversations I had no interest in, flickering with exhaustion. Not saying a word of grief.  Even though the thought of it hovered close. I didn't ignore it, but I also didn't know what to do with it. It came with huge amounts of discomfort that I steamed in and out of through the day.
In any case, when is grief ever comfortable? When have we ever been able to sit well with the idea that people around us will one day leave? We live our lives believing that it will never happen. Until it does.
According to Swiss-American psychiatrist Elizabeth Kübler-Ross, there are five stages of grief: Denial, Anger, Bargaining, Depression, Acceptance. She also argues that these stages don't always play out in a linear fashion. I suspect that I alternate between denial and acceptance. I also suspect that each day is different from the other, and each day grief grows, evolves, and changes. 
One of my favorite poets, Mary Oliver once wrote: 
"Tell me, what else should I have done?
Doesn't everything die at last, and too soon?
Tell me, what is it you plan to do
With your one wild and precious life?"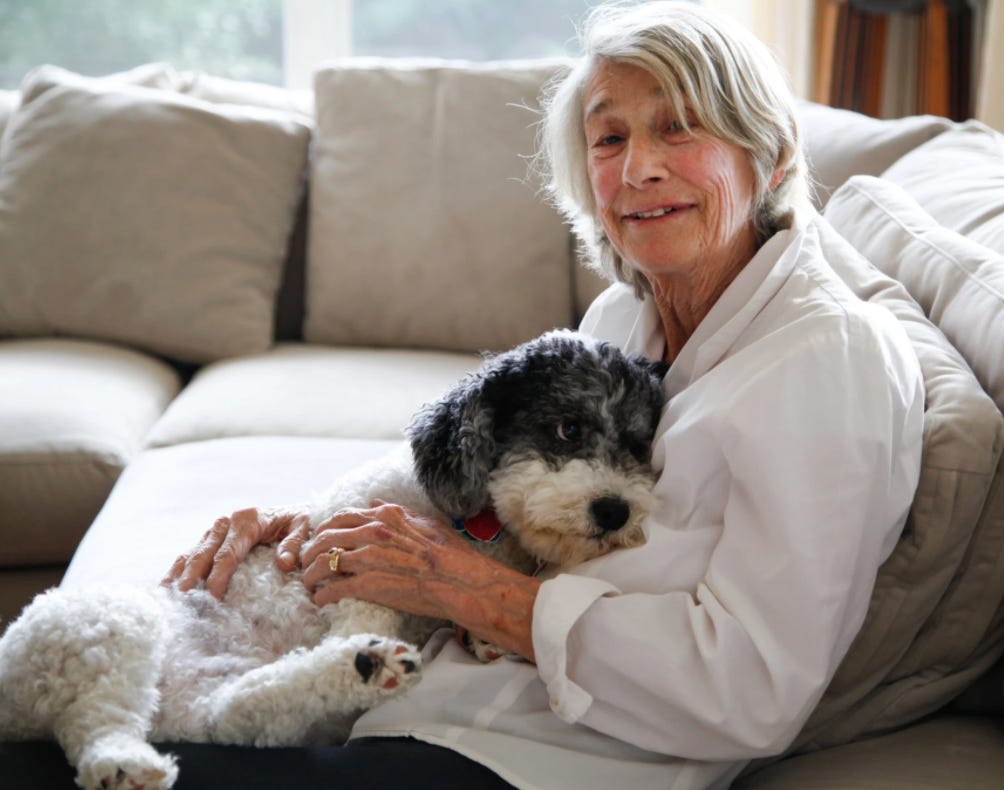 Photo by Angel Valentin for NYT. Mary Oliver with her dog, Ricky, at her home, 2013.
I discovered Mary Oliver on the day she died. She has written about joy, about walking in the woods, about dogs. Her work also extensively probes dying, living, and grief. She says that our real work in a sense is to fiercely love people in spite of knowing that someday we might outlive them.
In her poem When Death Comes, she wrote:
"When it's over, I don't want to wonder
if I have made of my life something particular, and real.
I don't want to find myself sighing and frightened,
or full of argument.
I don't want to end up simply having visited this world."
Her approach is soft. She spends time living, observing, and telling. Like a ripening moist fruit being squeezed for juice, she is succinct with her words and how they taste. She doesn't screech, her expression is mindful. Not to say that screeching is bad, but in the context of grief, it feels like a misfit. It's hardly a condition we can claim to understand enough. As Mary herself wrote:
"When it's over, it's over, and we don't know
any of us, what happens then.
So I try not to miss anything.
I think, in my whole life, I have never missed
The full moon
or the slipper of its coming back.
Or, a kiss.
Well, yes, especially a kiss."
I was lucky to have bumped into Mary Oliver, especially through times when I sealed my own lips and forgot how to reach out. Her poetry sits on the tip of the tongue. Sorrow, grief, pain — all of it tends to linger longer than we'd like for it to. It's a geographical landscape in itself with different terrains, soils, texture. They can't be flattened out. Instead they stack up like useless coins, falling uncontrollably out of the pocket now and then. Neither redemption nor closure are cheaply available.
Pauline Bass, a researcher widely recognised for her work on ambiguous loss, says, "grief is chronic." It is an experience that impacts the way we live. A frightening space from where our lives seem too intricate and at the same time too simple. This year, in particular, has been filled with collective loss — of space, of companionship, of touch, of people.
Grief constantly plays out in the public. I don't have much of a take on this. As long as people are grieving in their way and doing what's best for them, I'm not one to intervene. But I'm wondering how grief functions in the public — in spaces of the internet where we've constructed identities with the best parts of our selves. How does an intimate feeling that we're unable to grapple with play out here? A feeling/state that is clearly not the best version of ourselves. One that holds our scars, our ruins, our abandon.
I can vouch that grieving doesn't necessarily mean becoming fearlessly okay with our mortality. It can mean the exact opposite in some cases. It wraps you in a helpless state, of knowing that you can never fully know. Nobody wishes to go around hunting and examining this feeling; trying to improvise, or understand what it might have to teach. But sometimes, if you're forced to sit with the untidiness of it for long enough, the learning happens on its own. It doesn't have to mean giving up on hope, on the tactile things we love and nurture. There is no 'getting over,' there is only rebuilding around the site of pain.
As Mary Oliver, in a poem titled, Uses of Sorrow articulates:
"Someone I loved once gave me
a box full of darkness.
It took me years to understand
that this, too, was a gift."
Thank you for reading.
Six Impossible Things is a fortnightly newsletter about art, books, and reading. You may sign up if you want it delivered in your inbox.